For the original song of this, see Susume! Ultraman Zero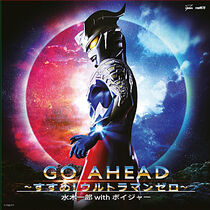 GO AHEAD ~Susume! Ultraman Zero~ (GO AHEAD ~すすめ! ウルトラマンゼロ~ Gō Aheddo ~Susume! Urutoraman Zero~ lit. "Go Ahead ~Let's Go! Ultraman Zero~") is a opening theme for Ultraman Zero: The Chronicle.
Lyrics: Keizo Nakanishi (中西 圭三 

Nakanishi Keizō

)
Composition & Arrangement: Takao Konishi (小西 貴雄

Konishi Takao

)
Artist: Ichirou Mizuki (水木 一郎

Mizuki Ichirō

) with Voyager (ボイジャー

Boijā

)
Original Japanese Lyrics
Japanese Transliteration
English Translation
何のため戦うのか

何のため強くなるの

最強の後ろに秘めている 最高の優しさこそ愛さ

[*]自分を知った戸惑いや恐れにも 向き合うことで 『本当の強さ」へ 挑戦しない成功なんてないさだから ためらわず突き進め ゼロ! ゼロ! ゼロ!

守りたいものはあるの 負けられない理由は何

わき上がる 愛しさ』それこそが 永遠の力の源さん

キラリと光る仲間たちの星から 君を呼ぶ声聞こえているだろう 今こそ君の力を見せるときだそうさ 誰よりも強くあれ ゼロ! ゼロ! ゼロ!

胸に広がる愛の響きを聴けよ それを超え得る喜びなどない たとえ全てを失うことがあったとしても 何度でも立ち向かえ ゼロ!

[*]Repeat

Nan no tame tatakau no ka

Nan no tame tsuyoku naru no

Saikyou no ushiro ni himete iru Saikou no yasashi sa koso aisa

[*]Jibun o shitta tomadoi ya osore ni mo Mukiau koto de "Hontou no tsuyoi sa" hē Chousen shinai seikou nante nai sadakara Tamewarazu tsukisusume Zero! Zero! Zero!

Mamoritaimono wa aru no Make rarenai riyū wa nani

Waki agaru "Itoshi sa" Sore koso ga Eien no chikara no minamoto sa

Kirari to hikaru nakama tachi no hoshi kara Kimi o yobu koe kikoete irudarou Ima koso kimi no chikara o miseru tokida sou sa Dare yori mo tsuyoku are Zero! Zero! Zero!

Mune ni hirogaru ai no hibiki o kikeyo Sore o koe eru yorokobi nado nai Tatoe subete o ushinau koto ga atta to shite mo Nandodemo tachimukae Zero!

[*]Repeat

For what do we fight?

What makes you stronger for what?

The strongest hidden behind The best kindness is love

[*]For the fearness or fearness i knew myself By confronting "Our Real Strength" hē There is no success if not to challenge Don't be hesitate to move forward Zero! Zero! Zero!

Is there something i want to protect? What is the reason for not being defeated?

To praise up "The Love" That is it With the power of eternal

From the stars of glittering fellows You will hear the voice of calling you Now it's time to show your power Be stronger than anyone Zero! Zero! Zero!

Listen to the sound of love spreading in your heart There is no pleasure to exceed it Even if you lose everything Confront any number of times Zero!

[*]Repeat
Community content is available under
CC-BY-SA
unless otherwise noted.