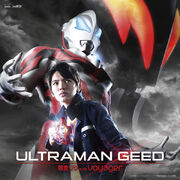 GEED no Akashi (GEEDの証 Jīdo no Akashi lit. Symbol of GEED or Token of GEED) is the opening theme of Ultraman Geed.
Lyrics: Sumiyo Mutsumi (六ツ見純代

Mutsumi Sumiyo

).
Composition & Arrangement: Kenji Kawai (川井憲次

Kawai Kenji

).
Artists: Riku Asakura (Tatsuomi Hamada) with Voyager (ボイジャー

Boijā

).
Lyrics
Original Japanese Lyrics
Japanese Transliteration
English Translation
GET OVER NOW!!


GET OVER PAIN!!
GET OVER MIND!!
JUMP UP! GEED!!


覚悟決めるぜ!! HERE WE GO!


僕が僕らしくいるために
誰の笑顔も雲らせない!
願いこそが愛えてく未来
ジーッとていたって ドーにもならない!


決められた自分のSTORY!
抗うたび築くHISTORY!
支え合う仲間の笑顔がチカラ
GEED・・・ 僕は強くなる


みんなのために覚悟決めるぜ!
ウルトラマン!!


あすを照らすのは星じゃなく
胸の中で芽生えた閃光
疼く痛みが描くDESTINY
覆し目覚めた新しい魂


ここからはNEXT STAGE
挑む覚悟NO DAMAGE
宿命を塗り替えることが使命
GEED・・・ 絆をつなげて


新たな世界信じ続ける!
ウルトラマン!!


明日に向かって進み続ける!
ウルトラマン!!


GET OVER NOW!!!!


GET OVER PAIN!!
GET OVER MIND!!
JUMP UP! GEED!!



Kakugo kimeruze!! HERE WE GO!


Boku ga bokurashiku iru tame ni
Dare no egao mo kumorasenai!
Negai koso ga kaete ku mirai
Jīttoshite itatte Dō ni mo naranai!


Kime rareta jibun no STORY!
Aragau tabi kizuku HISTORY!
Sasae au nakama no egao ga Chikara
GEED... Boku wa tsuyoku naru


Minna no tame ni kakugo kimeruze!
Urutoraman!!


Asu wo terasu no wa hoshi janaku
Mune no naka de mebaeta hikari
Uzuku itami ga kaku DESTINY!
Kutsugaeshi mezameta atarashī tamashī


Koko kara ha NEXT STAGE
Idomu kakugo NO DAMAGE!
Shukumei wo nurikaeru koto ga shimei
GEED... kizuna wo tsunagete


Aratana sekai shinji tsudukeru!
Urutoraman!!


GET OVER NOW!!


GET OVER PAIN!!
GET OVER MIND!!
JUMP UP! GEED!!


Prepare yourself!! HERE WE GO!


In order for me to become myself
Anyone's smile should not covered by shade!
A wish that could change the future
Sitting around doing nothing won't get us anywhere!


I have decided my own STORY!
Every time against it, build up HISTORY!
Friends' smiles of supporting shall become my power
GEED... I will be strong


For everyone, prepare yourself!
Ultraman!!


It's not a star that will shines tomorrow
but the seed of flashing light in the chest
The aching pain depicts my DESTINY!
It stirringly awaken a new-found soul


It begins the NEXT STAGE
Prepare to challenge, NO DAMAGE
My mission is to replace my own Destiny
GEED... Connect the Bonds


Continue to believe in a new world!
Ultraman!!


Continue towards tomorrow!
Ultraman!!