Fanton's Lost Item (ファントンの落し物 Fanton no Otoshimono) is the seventh episode of Ultraman Mebius.
Synopsis
Alien Fanton comes to Earth searching for his lost food item, C-Pin 929. But Bogar wants the food for herself...
Plot
GUYS Spacy spots an alien spaceship. They receive a transmission, which Teppei translates. They learn that an alien known as Fanton will be landing in one hour, at given co-ordinates. GUYS reaches the location, and the alien teleports to them. Tepei and Fanton hold a stunted conversation, and Mirai gathers that he wants food.
GUYS learns that Planet Fanton was facing famine, so they created the C-Pin 929, a food which expands when exposed to over 10 degrees Celsius for over 8 hours. They lost the food on earth, however, causing them to need to retrieve it. Fantom gives them the drop point, and GUYS goes to find the food. Mirai uses telepathy to locate the item, inside an empty barn.
Unfortunately, it begins growing, bursting out of the shed at an alarming rate. Teppei discovers the food feeds on the atmosphere to grow large. GUYS comes up with a plan to bring the C-pin to the Fanton's spaceship via METEOR. Just then, Ryuu sights the former captain of GUYS, who was seemingly killed by Dinozaur, and runs after him.
Bogar arrives, and goes to eat the pin. Mirai runs off to transform, as the Gun Loader begins its operation. Mebius engages the creature, but is heavily outmatched. He manages to hold the kaiju off long enough for the food to reach space. Meanwhile, Ryuu confronts Captain Serizawa, but the man telepathicly asks who he is, and vanishes.
Bogar nearly eats Mebius, as Serizawa transforms into Tsurugi. He attacks, but Bogar vanishes, causing damage to the city. Mirai turns angrily to the blue giant, but he merely vanishes.
Later, Fanton thanks them and returns to space, telling them the blue giant is called Tsurugi, and his objective is to destroy Bogar. He then leaves after calling them friends.
Cast
Appearances
Ultras
Kaiju
Home Media
Ultraman Mebius Volume 2 features episodes 5-8.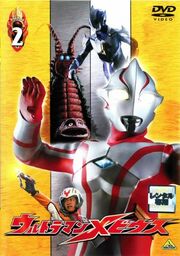 Trivia
Community content is available under
CC-BY-SA
unless otherwise noted.