Ultraman Elek

Human Host/Form:
A human of the same name
Height:
70 m - 120 m
Weight:
48,000 t
Age:
N/A
Home world:
Planet U40
Voice actor(s):
Ikeda Masaru
Suit actor(s):
None
First Appearance:
The☆Ultraman
Last Appearance:
{{{Last Appearance}}}
Number of Appearances:
N/A
Race:
Ultra
Status:
Alive
Family:
Ultraman Joneus (Brother in arms)
Ultraman Loto (Brother in arms)
Affiliation:
People of U40
Elek
(エレク,
Ereku
) an Ultra Warrior from U40. One of eight from U40 who can grow gigantic in size, of all the brothers Elek takes a place of superiority even over
Ultraman Joneus
, much like how
Zoffy
does to
Ultraman
. In the English version, U40 is a sister-planet of Earth where normally, its
inhabitants
look like humans, but they are able to transform using an energy called
Ultra Mind
.
Subtitle: Ultra Warrior (ウルトラ戦士 Urutora Senshi)
History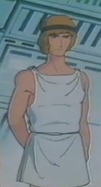 TBA

Physical Attributes
Height: 70 -120 m
Weight: 48,000 tons
Techniques
Helium Ray: Elek can fire this beam from an L position from his arms, it is equivalent in power to Jonias' Planium Beam
Elek Barrier: Elek's barrier technique
Flight: Like all Ultras Elek can fly
Size Change: Elek can change his size, he is one of the few on U40 who can
Teleportation: Elek can teleport anywhere with in a reasonable distance even in his human form
Human Form: Elek has a natural human form of his own, to transform he uses a similar device as his brother, a star shaped medal and places it on his forehead
Transformation
Elek's human form places his Beam Flasher on his forehead and transforms along with Loto's human form, the transformation is just like Ultraman Joneus's transformation.

Trivia
In the English version, he was renamed Maral.
Gallery