Dethmon[1] (デスモン Desumon) is a Kaiju from episode 38 of Ultraman Tiga.
Subtitle: Odd Beast (奇獣 Ki-jū)
History
Ultraman Tiga
Some sort of strange alien creatures, the Dethmon appeared in the Japanese skies one calm day. GUTS was quick to strike back at the invading forces, shooting down the monsters with whatever available weapons they had. By the time the attack was over, all that remained of these strange creatures were a series of photographs taken by the human forces. The Mirage Monster
Trivia
Dethmon is the second known monster defeated by GUTS without Ultraman Tiga's assistance (the first being Gakuma Alpha).
Dethmon's appearance seems to resemble Alien Bira, right down to the tail.
Ultraman Taiga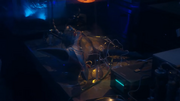 A smaller Dethmon was seen as one of the test subjects of Alien Chibull Mabuze's experiments to create the ultimate creature. I Can't Hear Your Voice
Trivia
Data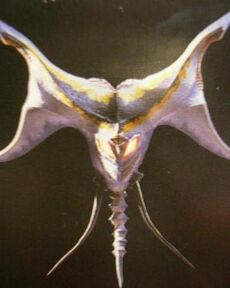 Stats
Height: 40 m
Weight: 15,000 t
Origin: Metropolice sky
Powers and Weapons
Flight: Dethmon is capable of anti-gravity flight.
Gallery
Ultraman Tiga
Miscellaneous
References