"Delgoran was a friend of mine, until it suddenly changed and killed my father."

―Sol upon describing Delgoran.
Delgoran (デルゴラン Derugoran) is a space monster introduced in Ultraman Cosmos episode 42 "Friend." While under the influence of Chaos Header, he is known as Chaos Delgoran (カオスデルゴラン Kaosu Derugoran).
Subtitle: Comet monster (彗星怪獣 Suisei Kaijū)
History
Ultraman Cosmos
Delgoran is a monster whom had been researched by Sol and his father. They had been traveling through the galaxy together, but when they landed on an asteroid, Chaos Header quickly possesses the peaceful monster and killed Sol's father, along with their spaceship.
As the infected monster travels to Earth, Sol warns Team EYES, and they use the TECCH Booster to confront the beast. However, it suddenly teleports to the city before they can stop it. Musashi transforms into Cosmos and purifies Delgoran. Afterwards, the monster thanks him and flies back to space.
Trivia
Suit actor: Hiroshi Nagatomo
His roars as Chaos Delgoran is a combined roar of Gatanothor and Golza.
Data
Delgoran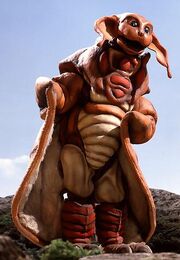 Stats
Height: 64 m
Weight: 62,000 t
Origin: Space
Powers and Weapons
Flight: Delgoran can fly at a moderate speed.
Flash Travel: Delgoran can create a traveling sphere just like most Ultras as a means of transportation.
Chaos Delgoran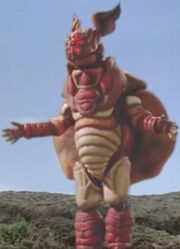 Stats
Height: 66 m
Weight: 62,000 t
Origin: Unnamed Asteroid
Flight Speed: Mach 2.5
Powers and Weapons
Space Wing (スペースウィング

Supēs Uuingu

): The Chaos/enhanced version of Delgoran's wing, which enable it to do these following abilities:

Flight: Chaos Delgoran can fly in a high speed.
High Speed Rotation: Chaos Delgoran can perform a fast anticlockwise spin matching a tornado.

Energy Blast: Chaos Delgoran can fire an orange missile strength energy blast.
Teleportation: In order to evade the Team EYES's TECCH Booster, Chaos Delgoran can teleport to it's desired destination.
Gallery
Ultraman Cosmos
References