Decisive Battle (決・戦 Ke・ssen) is the eleventh episode of SSSS.GRIDMAN.
Synopsis
The city was covered by a ceiling on an unusual morning. With Gridman gone,many monsters apleared in the city. Akane sat quietly, overlooking the city.
Voice Drama 11.11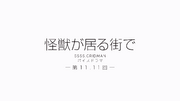 In a Town Where Kaiju Exist (怪獣が居る街で Kaijū ga iru machi de)
Utsumi and Rikka talk about their current situation while watching over the unconscious Yuta in hospital.

Cast
Appearances
Heroes
Assist Weapons
Kaiju
Revived Monster Army (再生産怪獣軍団

Saiseisan Kaijū Gundan

)
Easter Eggs
Denkou Choujin Gridman
The graphics card used to repair Junk also made an appearance in Denkou Choujin Gridman.