Decisive Battle (決・戦 Ke・ssen) is the eleventh episode of SSSS.GRIDMAN.
Synopsis
The city was covered by a ceiling on an unusual morning. With Gridman gone,many monsters apleared in the city. Akane sat quietly, overlooking the city.
Voice Drama 11.11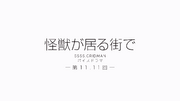 In a Town Where Kaiju Exist (怪獣が居る街で Kaijū ga iru machi de)
Utsumi and Rikka talk about their current situation while watching over the unconscious Yuta in hospital.

Cast
Yuta Hibiki (響裕太

Hibiki Yūta

): Yuya Hirose (広瀬 裕也

Hirose Yūya

) (Japanese dub)/Brandon McInnis (Funimation Dub)
Gridman (グリッドマン

Guriddoman

): Hikaru Midorikawa (緑川 光

Midorikawa Hikaru

) (Japanese dub)/Robert McCollum (Funimation Dub)
Sho Utsumi (内海 将

Utsumi Shō

): Soma Saito (斉藤 壮馬

Saitō Sōma

) (Japanese dub)/Greg Ayres (Funimation Dub)
Rikka Takarada (宝多六花

Takarada Rikka

): Yume Miyamoto (宮本 侑芽

Miyamoto Yume

) (Japanese dub)/Jill Harris (Funimation Dub)
Akane Shinjo (新条 アカネ

Shinjō Akane

): Reina Ueda (上田 麗奈

Ueda Reina

) (Japanese dub)/Lindsay Seidel (Funimation Dub)
Alexis・Kerib (アレクシス・ケリヴ

Arekushisu Kerivu

): Tetsu Inada (稲田徹

Inada Tetsu

) (Japanese dub)/Barry Yandell (Funimation Dub)
Rikka's Mother (六花ママ

Rikka Mama

): Mayumi Shintani (新谷真弓

Shintani Mayumi

) (Japanese dub)/Anastasia Munoz (Funimation Dub)
Namiko (なみこ

Namiko

): Suzuko Mimori (三森 すずこ

Mimori Suzuko

) (Japanese dub)/Sarah Wiedenheft (Funimation Dub)
Hass (はっす

Hassu

): Akari Kito (鬼頭明里

Kitō Akari

) (Japanese dub)/Amber Lee Connors (Funimation Dub)
Samurai・Calibur (サムライ・キャリバー

Samurai Kyaribā

): Ryosuke Takahashi (高橋良輔

Takahashi Ryōsuke

) (Japanese dub)/Ian Sinclair (Funimation Dub)
Max (マックス

Makkusu

): Katsuyuki Konishi (小西克幸

Konishi Katsuyuki

) (Japanese dub)/Cris George (Funimation Dub)
Vit (ヴィット

Vitto

): Masaya Matsukaze (松風雅也

Matsukaze Masaya

) (Japanese dub)/Chris Burnett (Funimation Dub)
Anti (アンチ

Anchi

): Kenichi Suzumura (鈴村健一

Suzumura Ken'ichi

) (Japanese dub)/Stephen Fu (Funimation Dub)
Appearances
Hyper Agents
Assist Weapons
Kaiju
Revived Monster Army (再生産怪獣軍団

Saiseisan Kaijū Gundan

)
Easter Eggs
Denkou Choujin Gridman
The graphics card used to repair Junk also made an appearance in Denkou Choujin Gridman.
Community content is available under
CC-BY-SA
unless otherwise noted.