Darkron (ダークロン Dākuron) was an alien that appeared in the TV series Mirrorman. He appears in episodes 3 and 20.
Subtitle: Dark Monster (暗黒怪獣 Ankoku Kaijū)
History
Mirrorman
Generation I
Darkron appeared in front of Mirrorman, but then vanished. Later Mirrorman fought Dakron who overpowered him as they fled through dimensions. However, Mirrorman unleashed his own power, the Mirror Light, which brought them out of the alternate dimensions. Mirrorman aimed a Mirror Shoot at Darkron's face, stunning him. He then used the Mirror Light again, further confusing him and allowing him to use another Mirror Shoot to kill Darkron, who vanished in green flames. The Super-Express Vanishes
Trivia
Darkron's roar is a recycled Gabora roar.
Generation II
After Mirrorman destroyed Sphenodon a light was irradiated from the Invaders saucer, which then suddenly turned into Darkron II. The two began to exchange blows, and after a while, Darkron II shot his right "hand" at Mirrorman, trying to stab him. Luckily, the hero dodged it and sent it back at the monster, impaling him in the chest. Darkron II fell on the ground and bled green. Bodyguard from the Deep
Mirror Fight
Darkron appeared in episodes 6 and 35 of Mirror Fight. Stock footage of his fights in Mirrorman were reused in this series.
Data
Darkron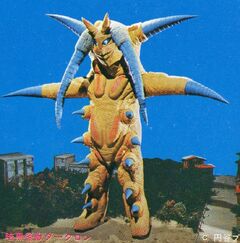 Stats
Height: 50 m
Weight: 30,000 t
Origin: Planet X
Powers and Weapons
Illusions: When moving at high speeds, Darkron can create fake copies of himself.
Teleportation: Darkron can teleport right before he's attacked.
Dimensional Travel: Darkron can travel through dimensions.
Levitation: Darkron can levitate in the air at will for an undetermined amount of time.
Laser Eyes: Darkron can shoot a laser from his eyes.
Other Media
Redman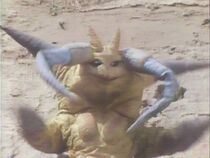 Darkron appears in episode one of Redman as one of the few Non-Ultra Kaiju in the series. He first appears on a hill and started throwing stones down at Redman. Redman dodged them and started throwing judo moves, punches and kicks at Darkron, eventually knocking him out. Redman then impaled Darkron with the Red Arrow, causing him to explode, ultimately killing him.
Trivia
Darkron is Redman's first opponent.
Darkron is one of the two non Ultra Kaiju that Redman fights, the other being Zaurs.
Redman (comic)
Darkron appears in the Redman comic, being one of the many Kaiju brought to the planet by the Cicada People to entertain them by watching Redman slaughter the beasts. A powered up form called Gigakron appears later on.
Trivia
Gigakron is based on the more bulky looking stage show suit of Darkron in the original Redman show.
Mirrorman REFLEX
In the reimagining, Darkron's counterpart is called Kyuki.
Merchandise
Gallery
Mirrorman
Generation I
Generation II
Redman
Miscellaneous