Dark Mephisto (Zwei) (ダークメフィスト(ツヴァイ) Dāku Mefisuto (Tsuvai))[2][3] is a Dark Ultra Warrior that appeared in Ultraman Nexus. He was created as the successor of Dark Mephisto.
Subtitles:
Conception
Etymology
Like the first Mephisto, he is named after the German devil Mephistopheles. The "Zwei" suffix on his name refers to the digit number "2" in German, since he is the second Mephisto.
Despite his real name being Dark Mephisto (Zwei), he is only refered to as Dark Mephisto in the series, at the end, Zagi only mentions Faust and Mephisto, either not caring or grouping the two together.
History
Ultraman Nexus
The exact origin of Dark Mephisto (Zwei) was unknown, but he possessed the Memory Police officer Hiroyuki Misawa during Mizorogi's attempt to escape captivity from the Freedom Fortress. At least according to Mizorogi in his last breath, the Unknown Hand (Dark Zagi) manipulated Misawa into a dark giant by corrupting his heart, exactly as how the original Mephisto did to the former Night Raider sub-captain before.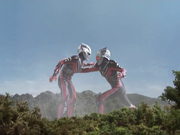 Misawa exposed himself to Nagi and Komon by shooting his predecessor and transforms in order to take Mizorogi's place as the bringer of darkness. Even with Ultraman Nexus' intervention, the two giants are evenly matched in speed before Zwei pinned him to absorb his energies. The redeemed Shinya transformed into Dark Mephisto through sheer will and join the fight against his successor. Although it appeared that Zwei has the advantage again, Mephisto turn the tables by holding his duplicate while Nexus Junis Blue fired his Arrow-Ray Schtrom, reducing Zwei to light particles. Shadow - Unknown Hand -

Profile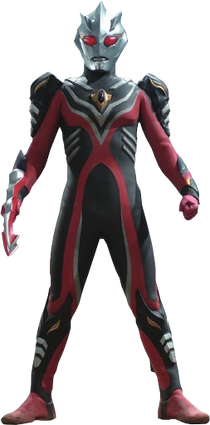 Stats
Height: 50 m
Weight: 50,000 t
Body Features
Eyes: Zwei's eyes. Initially black, they turned red as he becomes intense in the fight. The change in color allows him to distinct himself from the original Dark Mephisto.
Energy Core: Zwei's Color Timer-like anatomy, as a dark Ultra, is black and flashes red when he is injured.
Armed Mephisto (アームドメフィスト

Āmudo Mefisuto

): The bracers on his arm, they work in a similar way to Nexus' Armed Nexus.
Ultra Armor: Zwei's skin is resistant to fire and laser beams like any Ultra Armor.
Transformation
Hiroyuki uses the Darkevolver, where he pulls the two ends of the device apart, and transforms into Dark Mephisto Zwei in a dark pillar.
Abilities
Speed: Zwei has greater speed and agility to keep up with Nexus' Junis Blue, unlike his template.
Strength: Zwei is apparently much stronger than his predecessor. Even accounting for his injuries, Zwei was easily able to overpower the original Mephisto.
Weapons
Mephisto Claw (メフィストクロー

Mefisuto Kurō

): Zwei also uses the claw form from the modified Armed Mephisto on his right arm.

Dark Phalanx (ダークファランクス

Dāku Farankusu

): Zwei rapidly attacks the enemy using his Mephisto Claw.
Mephisto Shot (メフィストショット

Mefisuto Shotto

) (Unused): Fires green energy blasts from the Mephisto Claw.
Techniques
Special
Dark-Ray Schtrom (ダークレイ・シュトローム

Dākurei Shutorōmu

): Same as the original, only demonstrated in Ultraman Nexus video game.
Dark Ray Feather (ダークレイフェザー

Dāku Rei Fezā

): Zwei can fire arc shaped bursts of energy, just like his template. However, Zwei can fire it in three consecutive bursts.
Burst Cluster (バーストクラスター

Bāsuto Kurasutā

): Zwei uses the same Dark Ray Cluster attack as his predecessor. Unlike his template, his has a homing effect.
Dark Flame (ダークフレイム

Dāku Fureimu

): Zwei can fire an energy blast from his right hand. Can be fired in succession.
Other
Energy Drain: Zwei can absorb the energy of other beings. Something the original never exhibited.
Other Media
Dark Mephisto (Zwei) appears in this game as one of the secret playable characters. To unlock him, the player must complete Battle Mode using Dark Mephisto.
Merchandise
Play Hero VS
Ultraman Nexus (Junis Blue) VS Dark Mephisto Zwei (Play Hero VS 2-pack, 2005)

Release Date: December 2005
Price: 300
JAN/ISBN: 4543112332004
Materials: PVC (figures)
Released as part of the Play Hero VS "Invasion! The Strongest Enemy" lineup, this Dark Mephisto Zwei is a small figure (about 8cm) and he sports 3 points of articulation and entirely casted in red plastic with black, silver and gold paint operations. He also comes with Ultraman Nexus Junis Blue.
Package images with Nexus & Dark Mephisto Zwei includes the said figures.
Dark Mephisto Zwei (Ultraman Heroes Single Packs)
The Dark Mephisto Zwei figure is also available individually in a windowed bagged packaging outside Japan.
Mask Collection
Ultraman: Giant of Light Collection (2009)

Release Date: February 2009
Number: 10
Price: 600 yen per box
JAN/ISBN: 4543112527721
Materials: PVC, ABS, LED
Accessories: light-up stand
Released as part of the first "Ultraman: Giant of Light Collection" assortment for the

MasColle

line, this small head bust of Dark Mephisto (Zwei) features a light-up gimmick, activated by switch accessible by removing the head from the stand. Dark Mephisto Zwei features a glowing red color on his eyes, though the LED can be switched off to represent the original Dark Mephisto.
Gallery
Ultraman Nexus
Miscellaneous
Trivia
When (Zwei) first rise, he looked the same as the first Mephisto, but his eyes turned red after Ultraman Nexus appeared and struck him.
He and Dark Zagi are the only Giants of Darkness in the series never to help the protagonists in Ultra form. Coincidentally, the Ultras who helped the protagonists have black eyes and had more than one appearance, and the Ultras who didn't have red eyes had a single appearance.
References