DREAM is the first episode of Ultraseven X.
Plot
The man who lost memory is handed over from a mysterious woman electrician an item of red eyeglasses and is begged to save this world. Although he feels frustrated as to who he is, he knows that he is an agent of DEUS, along with K, he chases the alien plotting invasion. However, it appeared there was a gigantic alien Galkimes. And the battle of his life begins with the red eyeglass type item in hand.
Cast
Main Cast
Guest Cast
Appearances
Ultras
Kaiju
Home Media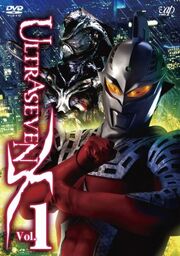 Ultraseven X Volume 1 Features Episodes 1-2.
The episode was premiered in the United States on TOKU in June 5, 2017.
Community content is available under
CC-BY-SA
unless otherwise noted.