DASH Annihilated!? (DASH 壊滅!? Dasshu Kaimetsu) is the eighth episode in the series, Ultraman Max.
Synopsis
A meteorite lands and life signals are found inside it. Nobody can seem to catch the alien as it drains people's life energy, and Max is the only one left to stop it.
Plot
The episode opens with a surprise party for Kaito, however, it is interrupted by a satellite detecting a meteorite incoming. DASH deploys to change its course. The danger is quickly averted and a sample is brought back for study, and Professor Yukari Yoshinaga detects a life signal. The meteorite breaks open, both Sean and the Professor are hurt by Bugdalas, with a beam which draws life energy from a victim.
Elly finds an image from surveillance data and sends a location. Koba and Mizuki take one route, Kaito and the captain the other. Kaito finds a signal, and the captain shoots, causing the invisible monster to materialize. They bombard it with firepower, but the captain's energy is drained. They escape.
Elly detects the lifeform, and Mizuki goes to confront it. The Professor and Sean discover that Bugdalas has eggs inside of it. Kaito goes after her. Just in time, he arrives and hits it with a special shot, knocking it out. He learns Mizuki was also hit. The monster gets back up, and drains Kait's energy. It then grows to a giant form and flies off. Kaito pursues in DASH Bird 1, and manages to bring it down. However, the the kaiju manages to ground his plane, and he transforms.
Max defeats Bugdalas. Headquarters makes an antidote for the after effects of the beam, and Kaito's birthday is celebrated as the episode ends.
Cast
Appearances
Ultras
Kaiju
Home Media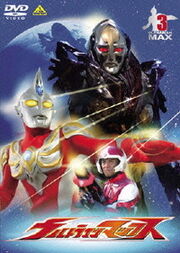 Ultraman Max Volume 2 features episodes 7-10.
Trivia