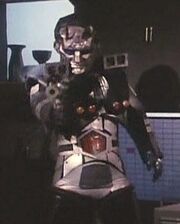 Cyborg B1 (サイボーグB1 Saibōgu B1) is a cybernetic kaijin who appeared along with his 'brother', Cyborg B2, in the series, Dinosaur Squadron Koseidon.
Subtitle: Black soldier (黒色兵士 Kokushoku Heishi)
History
Dinosaur Squadron Koseidon
TBA
Trivia
B1's suit is exactly the same as Cyborg K2's suit, just with the chest being painted black.
Data
Stats
Height: 2.1 m
Weight: 80 kg
Origin: Unknown
Powers and Weapons
Blaster: Cyborg B1 possesses a laser blaster. It causes explosions on impact.