Collapse (崩・壊 Hō・kai) is the tenth episode of SSSS.GRIDMAN.
Synopsis
Akane skipped school and the peaceful days without monster resume. After her last kaiju is defeated by Gridman, Akane stood still. Like a lost visitor, Akane wandered the city. Meanwhile, Anti also loses his place.
Voice Drama 10.10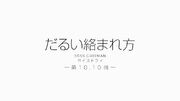 Getting In A Tangle (だるい絡まれ方 Darui karamare-kata)
Yuta and Utsumi talk about the things that have happened to them, until Namiko and Hass come along to talk about Rikka.

Cast
Yuta Hibiki (響裕太

Hibiki Yūta

): Yuya Hirose (広瀬 裕也

Hirose Yūya

) (Japanese dub)/Brandon McInnis (Funimation Dub)
Gridman (グリッドマン

Guriddoman

): Hikaru Midorikawa (緑川 光

Midorikawa Hikaru

) (Japanese dub)/Robert McCollum (Funimation Dub)
Sho Utsumi (内海 将

Utsumi Shō

): Soma Saito (斉藤 壮馬

Saitō Sōma

) (Japanese dub)/Greg Ayres (Funimation Dub)
Rikka Takarada (宝多六花

Takarada Rikka

): Yume Miyamoto (宮本 侑芽

Miyamoto Yume

) (Japanese dub)/Jill Harris (Funimation Dub)
Akane Shinjo (新条 アカネ

Shinjō Akane

): Reina Ueda (上田 麗奈

Ueda Reina

) (Japanese dub)/Lindsay Seidel (Funimation Dub)
Alexis・Kerib (アレクシス・ケリヴ

Arekushisu Kerivu

): Tetsu Inada (稲田徹

Inada Tetsu

) (Japanese dub)/Barry Yandell (Funimation Dub)
Namiko (なみこ

Namiko

): Suzuko Mimori (三森 すずこ

Mimori Suzuko

) (Japanese dub)/Sarah Wiedenheft (Funimation Dub)
Hass (はっす

Hassu

): Akari Kito (鬼頭明里

Kitō Akari

) (Japanese dub)/Amber Lee Connors (Funimation Dub)
Samurai・Calibur (サムライ・キャリバー

Samurai Kyaribā

): Ryosuke Takahashi (高橋良輔

Takahashi Ryōsuke

) (Japanese dub)/Ian Sinclair (Funimation Dub)
Max (マックス

Makkusu

): Katsuyuki Konishi (小西克幸

Konishi Katsuyuki

) (Japanese dub)/Cris George (Funimation Dub)
Vit (ヴィット

Vitto

): Masaya Matsukaze (松風雅也

Matsukaze Masaya

) (Japanese dub)/Chris Burnett (Funimation Dub)
Anti (アンチ

Anchi

): Kenichi Suzumura (鈴村健一

Suzumura Ken'ichi

) (Japanese dub)/Stephen Fu (Funimation Dub)
Sakiru Tonkawa (問川 さきる

Tonkawa Sakiru

): Kaede Yuasa (湯浅 かえで

Yuasa Kaede

) (Japanese dub)/Dani Chambers (Funimation Dub)
Appearances
Heroes
Assist Weapons
Kaiju
Easter Eggs
Ultraman Series
Gridknight's cutting halo is very similar to Ultraman's Ultra Slash attack, as well as the cutting attacks of later Ultra Warriors.
Other
In Utsumi's notebook:

There is the sentence "God's in his heaven - All's right with the world.", which is the slogan of the organization NERV from Neon Genesis Evangelion.
The code KS512-H52 is from the book No Good from a Corpse, by Leigh Brackett.

Among the partly finished kaiju on Akane's desk are a three headed dragon resembling King Ghidorah and a blob/sludge looking monster resembling Hedorah.
Community content is available under
CC-BY-SA
unless otherwise noted.