Collapse (崩・壊 Hō・kai) is the tenth episode of SSSS.GRIDMAN.
Synopsis
Akane skipped school and the peaceful days without monster resume. After her last kaiju is defeated by Gridman, Akane stood still. Like a lost visitor, Akane wandered the city. Meanwhile, Anti also loses his place.
Voice Drama 10.10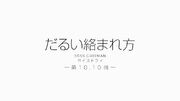 Getting In A Tangle (だるい絡まれ方 Darui karamare-kata)
Yuta and Utsumi talk about the things that have happened to them, until Namiko and Hass come along to talk about Rikka.

Cast
Appearances
Heroes
Assist Weapons
Kaiju
Easter Eggs
Ultraman Series
Gridknight's cutting halo is very similar to Ultraman's Ultra Slash attack, as well as the cutting attacks of later Ultra Warriors.
Other
In Utsumi's notebook:

There is the sentence "God's in his heaven - All's right with the world.", which is the slogan of the organization NERV from Neon Genesis Evangelion.
The code KS512-H52 is from the book No Good from a Corpse, by Leigh Brackett.

Among the partly finished kaiju on Akane's desk are a three headed dragon resembling King Ghidorah and a blob/sludge looking monster resembling Hedorah.