Bostang (ボスタング Bosutangu) was a stingray-like Kaiju that appeared in episode 21 of Ultra Q.
Subtitle: Space Stingray (宇宙アカエイ Uchū Akaei)
History
Ultra Q
A stingray-like monstrosity sent to Earth by the ruthless, war-loving Alien Keel, Bostang waged a campaign against humanity at sea. Attacking ships at sea, the creature laid to rest many lives, but humanity fought back with the aid of Zemi, an alien being from the planet Ruperts. As Bostang patrolled the ocean, humanity threw countless rockets and bombs against the aquatic horror. To humanity's relief, not even Bostang could survive the onslaught of military force. Its body was lifted out of the air repeatedly before a few final shots completely obliterated it. The war-loving Keel had been beaten at their own game, their once great bio weapon terminated.
Trivia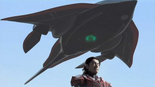 Data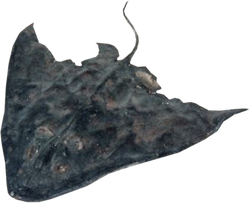 Stats
Height: 22 m
Weight: 16,000 t
Origin: Planet Keel
Powers and Weapons
Supersonic Flight: With its enormous wings, Bostang is capable of supersonic flight, which gives the aquatic horror enough boost to easily destroy small vessels.
Stinger: Although it is never seen, Bostang is assumed to possess a venomous barb on it's tail, like a normal real-life stingray.
Crushing Teeth: Although it is never used, Bostang (also like a normal stingray) has deadly crunching teeth in its circular maw.
Gallery
Ultra Q
Miscellaneous