Bororo (ボロロ Bororo) is a robot created by Gottes and Zobina to mimic Izenborg as Fake Izenborg (ニセアイゼンボー Niseaizenbō) Great Dinosaur War Izenborg.
Stats
Bororo
Height: N/A
Weight: N/A
Origin: Gottes' Lab
Fake Izenborg
Height: N/A
Weight: N/A
Origin: Gottes' lab
History
Bororo was created after so many failed attempts to destroy Izenborg. Made to mimick him in every way, Bororo, with the help of the Monster Pteranadon, ambushed the D-Force, but was taken down when it was discovered Gottes left out one major detail. He forgot to give Bororo the same powers as Izenborg.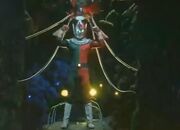 Powers and Abilities
Bororo
Fake Izenborg: Bororo can turn himself into an almost perfect copy of Izenbo, although he lacks any powers.
Fake Izenborg
None.
Trivia
To distinguish Fake Izenbo from the real one, the Fake has blue lights in its eyes instead of yellow. 
Gallery
Videos
Community content is available under
CC-BY-SA
unless otherwise noted.