Bolajo (ボラジョ, Bolajo) is a space bioweapon that appeared in Heisei Ultraseven.
Subtitle: Plant Beast (植物獣 Shokubutsu-jū)
History
Heisei Ultraseven
A biological weapon made in a Remojian laboratory, Bolajo was carried on an Alien Remojo terrorist ship as a fruit to rebel against the peaceful Remojo race.
Then the Remojo police blew up the terrorist ship leaving Bolajo's fruit seed in South America. Then the Ultra Guard heard about Bolajo's fruit seeds and they tried to destroy them. Bolajo seeds were almost destroyed until Remojo Mu Pyo was absorbed with one Bolajo seed turning it into its true form. Bolajo then trapped Ultra Hawk 3 with its vines. Then one of the Ultra Guard members, Kazamori, turned into Ultraseven and stopped Bolajo with his Wide Shot.
Trivia
Suit actor: Kazunori Yokoo
The suit was worn from above, so that it can be operated even if the suit actor turned backwards. In addition, the legs were omitted at the request of the director.
Data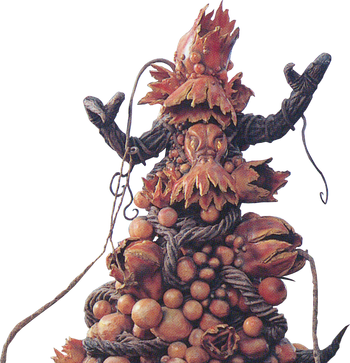 Profile
Height: 55 m
Weight: 31,000 t
Origin: Remojo System
Powers and Weapons
Gas: Bolajo can release harmful gas from his mouth.
Shockwaves: By spinning himself rapidly, Bolajo can create explosive shockwaves sending these tremors in straight lines towards its enemies.
Shock Vines: Bolajo has vines that can be used as whips or tentacles, ensnaring victims and pulling them into the air. Once holding prey, the vines can surge paralyzing shocks into an opponent's body.
Super Speed: Bolajo can charge at high speed.
Gallery