"Freezing Monster Blizzalar. [...] That's right, the older brother to Flame Monster Flamelar.
Brother monsters Blizzalar and Flamelar
*chuckles* I have an interesting plan..."

―Takeshi and Kahn Digifer
Blizzalar (ブリザラー Burizarā) is a one time monster that appeared in Gridman the Hyper Agent in episode 8. He was known as Gramm in Superhuman Samurai Syber-Squad.
Subtitle: Freezing Monster (冷凍怪獣 Reitō Kaijū)
History
Gridman the Hyper Agent
Blizzalar first appeared inside Ippei's air conditioner, creating a subzero temperature. After freezing Ippei's house, it went to do the same with Naoto Sho's. During the battle, by Kahn Digifer's orders, Flamelar joined its icy counterpart. Blizzalar was then destroyed by Gridman's Gridman Sword alongside Flamelar.
Trivia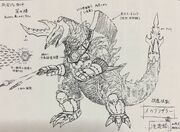 Unlike his one-time partner, Flamelar, Blizzalar only appeared once and never received a mecha upgrade though designs for a Mecha Blizzalar were drawn up for consideration.[1]
Instead of just being a cold counterpart to Flamelar, in Superhuman Samuria Syber-Squad, Gramm, Blizzalar's American version, was referred to as the sister of Plexton (Flamelar).
Data
Stats
Height: 74 m
Weight: 75,000 t
Origin: Cyberspace
Powers and Weapons
Ice Breath: Being an AC inspired virus, Blizzalar can breathe an icy breath to freeze enemies.
Ice Missles: From his fingertips, Blizzalar can fire ice missiles.
Gallery
References
↑

Gridman Super Complete Works