Bio Planet WoO (生物彗星WoO Seibutsu Suisei Ū) is a giant hero themed tokusatsu that premiered April 9, 2006, and aired at 7:30 pm on NHK and ran for 13 episodes. WoO was one of many unused ideas created by the late Eiji Tsuburaya as story connecting to the show, Ultra Q. The story revolves around a living creature which came from a comet named WoO; in the series, WoO is befriended by a young girl named Ai; both are chased by a mysterious organization called SWORD who sees WoO as a threat to humanity. At the same time, giant monsters have invaded in search of WoO. The story itself follows the original script Tsuburaya intended for the show.
Characters
Protagonists
SWORD
Kaiju
Episodes
He Fell from Outer Space! (あいつが宇宙から落ちてきた!

Aitsu ga Uchū kara Ochite Kita!

)
I Will Be Killed! (わたし殺される!

Watashi Korosareru!

)
Hero? Born (ヒーロー?誕生

Hīrō? Tanjō

)
WoO, Don't Die (WoO、死なないで

Wū, Shinanai de

)
Counterattack Orders (迎撃命令

Geigeki Meirei

)
Farewell WoO (さよならWoO

Sayonara Wū

)
New Terror (新たなる恐怖

Arata Naru Kyōfu

)
My Whereaboouts (わたしの居場所

Watashi no Ibasho

)
Cornered (追いつめられて

Oitsumerarete

)
Sorry, Kotaro (ごめんね、小太郎

Gomen ne, Kotarō

)
Love For All (ラブ・フォー・オール

Rabu Fō Ōru

)
The Final Battle (最後の闘い

Saigo no Tatakai

)
Bonds to the Future (未来への絆

Mirai e no Kizuna

)
Manga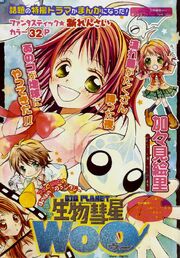 Bio Planet WoO also had a manga that ran for six chapters of a single volume collection. Unlike the show, the manga Bio Planet WoO only featured Small WoO and no giant monsters and is considered a slice of life.

Songs
Opening
Ending
Gallery
External Links