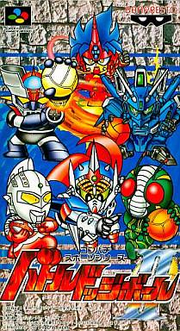 Battle Dodge Ball II is a crossover video game in the Compati Hero series and a sequel to Battle Dodge Ball.
Plot
None really, the heroes and villains decide to have a dodge ball match.
Gameplay
Like the original Battle Dodge Ball, you must beat the oposing team in order to progress.
Characters
Ultraman Series
Ultras
Kaiju
Rider Series
Riders
Kamen Rider Black RX
Kamen Rider Stronger
Kamen Rider ZO
Kamen Rider 1 -Side Lines
Villains
Rattlander
Rider Killer
Shadow Moon
G.O.D. Warfare Agents - Side Lines
Gundam Series
Good Gundams
TBA
Bad Gundams
Go Nagai
Heroes
Villains
Trivia
It is unknown if Ultra Killer, Kamen Rider Killer and Gundam Killer are the same as they previously where, with Zoffy being Ultra Killer.