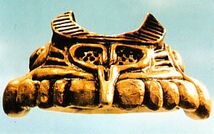 The Baltan Warship is a ship used by Alien Baltan to attempt to invade Earth in Ultraman 80.
History
Ultraman 80
It first appeared at a large size trying to shoot UGM planes but this failed with Ultraman 80 blowing the ship up. Its second appearance was much smaller and helped kidnap kids.
Trivia
It greatly differs from the original Baltan Ship that appeared in the original Ultraman series.
It seems to resemble their own head.
Data
Stats
Height: TBA
Weight: TBA
Origin: Planet Baltan
Powers and Weapons
Flight: Baltan Warship can fly at high speeds.
Size Change: Alien Baltan can change the Warship's size at will.
Gallery
Ultraman 80