| | |
| --- | --- |
| | Because this Kaiju is a character in the show instead of the monster-of-the-week, it has been given its own article. If you're looking for the main page, see Alien Baltan. |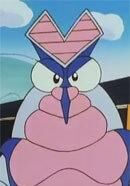 Bal is an Alien Baltan child that appeared in the anime series, Ultraman Kids, and was a friendly rival to Maa.
History
TBA
Data
Stats
Height: Unknown
Weight: Unknown
Origin: Kid78
Powers and Weapons
Separation: Like the original Alien Baltan, Bal can make multiple copies of himself.