"Bagira, you're my subject. You will give chaos and suffer to people!"

―Kahn Digifer
Bagira (バギラ, Bagira) is a Kaiju introduced in episode five of Gridman the Hyper Agent. It was renamed as Hock, while its upgraded form was called Hockinator, in Superhuman Samurai Syber-Squad.
Subtitle: Razor Monster (裂刀怪獣 Rettō Kaijū)
History
Gridman the Hyper Agent
Bagira
In the beginning of the episode, Takeshi Todo was humiliated when a deliveryman with fruit crashed into him. As revenge, Takeshi created Bagira to shutdown and lockup all the food plants in the city. The sudden food shortage was causing mayhem among housewives and Ippei Baba's hunger was getting troublesome. Unlike previous monsters, Bagira had a major advantage with its blades and was able to deflect Gridman's fireballs and even the Grid Beam! Ippei quickly constructed the Barrier Shield to even the battle; the Barrier Shield's shape and design was inspired by a special hotdog Ippei had been craving. Using his new sword, Gridman severed Bagira's arms, but Takeshi withdrew Bagira from battle. The Perfect Sword With A Man's Pride
Bagira (Remodeled)
Bagira was given new arms and was sent into an electronic keyboard in a music shop, but was quickly destroyed by Anosillus's beam, shocking both Takeshi Todo and Kahn Digifer. A Terror Melody
Mecha Bagira
Bagira's data was later upgraded into Mecha Bagira (メカバギラ Meka Bagira) that Takeshi used to reanimate an ancient cadaver that was discovered by a research facility.
The corpse went on a rampage throughout the facility and went after Yuka Inoue, Daichi Sho, and Kana Baba, who were visiting at the time. Mecha Bagira's new arsenal included a boomerang on its tail and a robotic eye that allowed Mecha Bagira to target and aim its weapon with accuracy. To win the battle, Gridman used the flamethrower attack from Ippei's new Dragonic Cannon followed by the Grid Beam. The Legend of Dragon
Data
Bagira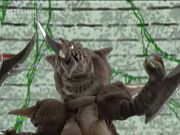 Stats
Height: 71 m
Weight: 77,000 t
Origin: Takeshi Todo's PC
Powers and Weapons
Hand Swords: Bagira has twin swords fused with his hands.
Horns: Bagira has a third horn on his head.
Sickle Tail: Bagira has a sickle on his tail, though it's rarely used in battle.
Gallery