Awakening (覚・醒 Kaku・sei) is the first episode of SSSS.GRIDMAN.
Synopsis
One day, Yuta woke up without his memories. Even seeing his face in the mirror confuses him as he cannot remember who he is. An echoing voice guided Yuta to an old personal computer and it spoke to him. It is the Hyper Agent Gridman, who has come from the Hyper World with a mission!
Voice Drama 1.1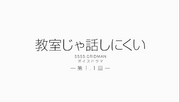 It Is Hard to Say In the Classroom (教室じゃ話しにくい Kyōshitsu ja hanashi nikui)
Namiko and Hass ask Rikka about what she was doing with Yuta.

Cast
Appearances
Heroes
Kaiju
Easter Eggs
Gridman the Hyper Agent
Yuta was treated at Inoue Hospital, which also made an appearance in the original Gridman the Hyper Agent as the workplace of Yuka Inoue's parents, hence its name. It was where Naoto Sho's brother, Daichi was being treated back in episode 1 until an attack by Gilarus caused all surgical instruments to go haywire.
Akane gives Yuta a Special Dog (a type of hot dog). This food appeared in episode 3 of the original series and was Ippei's inspiration for designing Barrier Shield.
Ultraman Series
Other
One of the items sold in the Junk Shop is the stuffed bird Alcor from Little Witch Academia
One of Yuta and friends' classmates highly resembles Akko from Little Witch Acadamia. This character appears in later episodes as well.