Aron (アロン, Aron) was a Kaiju that briefly appeared in episode 39 of Ultraseven.
Subtitle: Bold Strength Monster (豪力怪獣 Gōryoku Kaijū)
History
Ultraseven
Aron was a monster sent by Alien Guts to test Ultraseven's strength and abilities while they analyzed from the safety of their saucer. Both the Ultra warrior and Monster fought on a few occasions but ultimately, Aron was killed when Ultraseven decapitated him with the Eye Slugger. However Aron's assignment was now complete and the Alien Guts have the information they required to assassinate Ultraseven. The Seven Assassination Plan Part 1
Trivia
Despite having wings, Aron was never seen flying.
Aron's roar is a slowed down roar of the Toho Monster, Baragon.
Aron is one of the monsters that appears as a picture on the wall of Yuriko's room in episode 18 of The☆Ultraman.
Since Aron's name was known by Dan, it could be assumed that they are a species from M78 or that Dan encountered one previously before coming to Earth.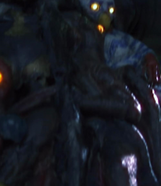 Data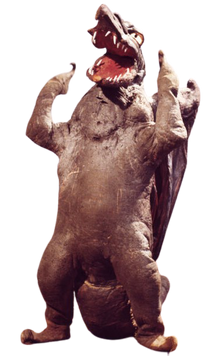 Stats
Height: 45 m
Weight: 13,000 t
Origin: Planet Guts
Powers and Weapons
Invisibility: Aron can camouflage himself to hide from enemies.
Hooks: Aron has a hook for each hand and foot he can use to swing at foes.
Merchandise
Gallery
Ultraseven
Ultraman Story 0