Argon  (アルゴン Arugon)[1] was a Kaiju that appeared in Ultraman 80
Subtitle: Transforming Monster (変身怪獣 Henshin Kaijū)
History
Ultraman 80
In the outer reaches of space, Argon had planned to invade earth, studying its defense and the UGM. And so, he came in two saucers, easily slipping past the UGM's radar. Then he attacked. One of the saucers was taken out in an ensuing dogfight, but he left his human form on earth, where it was taken in by a well meaning girl.
When she tried to take him to the UGM, he revealed he fooled her, and transformed into Argon. Tanks seemed to hold him off until his saucer also joined the fight. Jun attacked and held him off until Takeshi transformed into 80! The two battled briefly, but the monster could not rival the Ultra Warrior. He was destroyed.
Trivia
Human Actor: Katsumi Hirano.
Argon was created from the suit of Lavras.
Argon's roar is a reused Unitang roar.
Data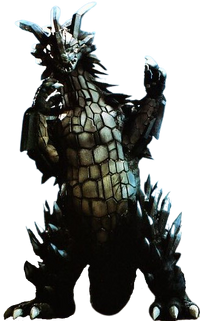 Stats
Height: 2 ~ 55 m
Weight: 90 kg ~ 30,000 t
Origin: Unknown planet in space
Powers and Weapons
Mouth Energy Beam: Argon can fire an explosive energy beam from his mouth.
Human Form: Argon can appear as a normal human.
Saucer: Argon has a saucer which he uses to travel.

Energy Bolt: This saucer also can fire red colored energy beams for attacking purposes.
Gallery
References