Angoras (アンゴーラス Angōrasu)[1] was a giant catfish-like Kaiju that first appeared in the TV series Ultraman 80 episode 34.
Subtitle: Giant Monster Fish (巨大怪魚 Kyodai Kaigyo)
History
Ultraman 80
A deep-dwelling fish, Angoras came to the surface after its baby was caught and taken as a pet. Scaring the locals, the creature moved onward until UGM arrived. Their weapons had little effect against the fish, and soon Ultraman 80 was called on. The underwater monster was far larger than 80 and managed to overpower him, and the fact they were in its domain made it even worse. When 80 couldn't stop the creature, the baby Angoras was released. The parent quickly became peaceful when hearing its child's calls, and both parent and baby vanished beneath the water.

Data
Angoras (Baby)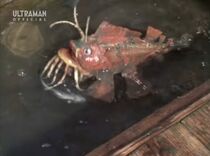 Stats
Height: 50 cm
Weight: 3.2 kg
Origin: off the Miura Peninsula
Powers and Weapons
Adept Swimmer: Baby Angoras can swim at low speeds.
Call of Angoras: Baby Angoras can call out to one of its parents if he feels endangered.
Gallery
References