Alien Nackle (ナックル星人 Nakkuru Seijin) is an alien race that came to Earth with the intentions of killing Ultraman Jack, but was thwarted by Jack's counterattack. Another one was dispatched by Yapool, and two more appeared in two different canons, in the Dark Spark War Timeline one, named Gray, worked for Dark Lugiel and recently in the Ultra Flare Timeline, two individuals went to Earth on their own accord.
Subtitle: Assassin Alien (暗殺宇宙人 Ansatsu Uchūjin)
History
Return of Ultraman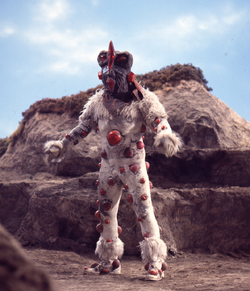 One of the more sadistic aliens in the universe, Alien Nackle came to Earth to conquer it while disguised as an old man to hide from MAT's whereabouts. Determined to know every weakness about Ultraman Jack, Nackle studied the Ultra in battle to reveal what could be exploited as a weakness. This was done by reviving the monsters, Seagorath and Bemstar to do battle against the Ultra. Ultraman Jack was more than a match for the two monsters combined and eventually they were both destroyed, but Alien Nackle had all the info he needed on the Ultra. Unleashing his bodyguard monster Black King as a decoy to distract MAT, Alien Nackle stole one of MAT's vehicles to get important information about Ultraman Jack's human host, Hideki Goh. Discovered that Goh had a love for his girlfriend, Aki, Nackle kidnapped Aki inside the swiped car and the alien's henchmen held Aki out of the moving car, literally dragging her across the pavement, fatally wounding her. During the confrontation, one of Goh's friends, Ken Sakata, was in the area and tried to stop the car, but was run over and killed. Once Goh heard the news and arrived at the hospital, he only had enough time to see her die in front of his eyes.
With Jack now emotionally broken, Nackle unleashed Black King again in an all-out assult on Earth. Goh transformed into Ultraman Jack to fight the monster, but Ultraman Jack's attacks proved useless against Black King as the info Nackle gathered on Jack's earlier battle enhanced Black King, making him able to overpower Jack entirely. Finally Alien Nackle appeared in his true form and joined Black King in mercilessly brutalizing Jack until the Ultra Warrior's strength was spent completely. Nackle called two spacecrafts to lift Jack using two chains attached to his arms and Jack was airlifted into space, prepared to be executed on Nackle's home planet.
Alien Nackle then appeared before MAT, revealing his true self, and his intentions, as well as revealing a new weapon, a mind-controlling Satellite Dish. With MAT now under Nackle's hypnotic control, Nackle's conquest for Earth seemed complete with Yuriko hiding from her mind controlled team. Ultraman Dies at Sunset
Miraculously as Jack was preparing for his execution, Ultraman and Ultraseven appeared, destroying the spacecrafts that held him, and reviving Jack's power. Jack gave a salute to his comrades before taking off back to Earth. However, upon returning, Goh was seized by MAT comrades, who'd all been placed under Nackle's Mind-Control, and was captured and blind folded. Yuriko arrived to save Goh, and they beat them unconscious, seeing a needle in their ear which was linked to a satellite. Goh quickly made his way to Black King and Alien Nackle for one final fight. Goh became Ultraman Jack again, but Nackle and Black King were still be too strong for him to beat. During the fight, Jack managed to destroy the mind-control Dish, freeing MAT from Nackle's control. Receiving support from his fellow MAT members, Jack fought back with much strength. Jack managed to kill Black King by decapitating him, leaving Nackle all alone. Jack then grabbed Alien Nackle, tossed him up into the air, and slammed him down onto his head, severing the alien's spine. At death's door, Nackle then warned Jack that one of his weapons was still remaining and would destroy Japan and he laughed before dissolving away. When the Ultra Star Shines
Trivia
Actor: Masahiko Naruse
In the planning stages, Alien Nackle had many different names including Alien Multi (マルチ星人

Maruchi Seijin

) and Alien Nack (ナック星人

Nakku Seijin

).

In episode 40 of Ultraman Taro, he is mistakenly referred to as Strategy Alien, Nackle (戦略宇宙人ナックル

Senryaku Uchūjin Nakkuru

).

Alien Nackle was originally going to revive Gudon to analyze Ultraman Jack's kick attack, but was removed for unknown reasons.
Although not physically seen, the first Alien Nackle was one of the monsters and aliens who were part of the back of Beryudora's 2nd support.
Andro Melos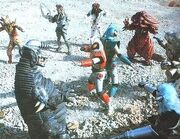 Alien Nackle appeared again in the series of Andro Melos, Along with Ace Killer, Gora, Alien Magma, Black King, King Joe and Mecha Baltan.
Ultraman Mebius & the Ultra Brothers
A second Alien Nackle appeared in the film, Ultraman Mebius & the Ultra Brothers.
In this film, a different Alien Nackle has made an alliance with fellow aliens: Alien Temperor, Alien Zarab, and Alien Guts in order to kill Ultraman Mebius and release U-Killersaurus and Yapool from the seaside of Kobe. Once the Ultra Brothers appeared to save Mebius from Guts's attack, Nackle appeared to assist the alien and the two aliens and the Ultra Brothers got into a long brawl. During the battle, the Ultra Brothers managed to released Mebius from his prison, but they were trapped themselves by an ambush from Guts and Nackle. With Mebius too weak to fight, Guts and Nackle used their ship to drain the Ultras of their energy and break the seal of U-Killersaurus. During the process, Mebius regained his strength and battled both aliens by himself with little trouble, destroying Guts and saving the other Ultra Brothers. However they were too late and U-Killersaurus and Yapool were released. Alien Nackle began to revel in his victory, but was coldly murdered by U-Killersaurus with a single blast. To Yapool, Nackle and the others were just pawns.
Trivia
Voice actor: Ryusei Nakao
In this film, Nackle is given a redesign that differs from his original appearance. His eyes are small and somewhat unimportant, in place/favor of one single "eye" in the middle of his face. His skin is more ridged and blue in texture. The red spots that cover his body are also not as protruded as they were in his original appearance.
Ultra Galaxy Mega Monster Battle: Never Ending Odyssey
Another Alien Nackle appeared in episode 3 of the series Ultra Galaxy Mega Monster Battle: Never Ending Odyssey as a Reionics.
In this series, Alien Nackle controlled the monster Galberos and was first seen killing an Alien Zelan and his Arstron in battle. Alien Nackle then located Rei and used Galberos to create hypnotic illusions of Zetton to fight Rei and his Gomora. Whenever it seemed Zetton was destroyed by them, he kept "reviving," Alien Nackle used the illusions to slowly wear out Rei and Gomora. Once Reimon and Gomora were too worn to fight, Alien Nackle sent Galbaros himself to finish the battle. Suddenly, Reimon entered into Burst Mode for the first time, transforming Gomora into Reionic Burst Gomora. Galbaros was no match for Gomora's new power and was vaporized by Gomora. Reimon turned his attention to Alien Nackle, ordering Gomora to kill him with the Super Oscillatory Wave, murdering the alien in a blind rage.
Trivia
The Alien Nackle suit from the Ultraman Mebius film was reused for Nackle's appearance in the film.
Mega Monster Battle: Ultra Galaxy Legends The Movie
Alien Nackle reappears in the movie Mega Monster Battle: Ultra Galaxy Legends The Movie as one of Ultraman Belial's 100 Monster Army. He was seen teaming up with Alien Babarue, Alien Magma, and Dada to kill Rei while the Ultras and Rei's monsters fought Ultraman Belial's other monsters, but Rei transformed into Reimon and killed his attackers in short order with Babarue first, followed by Magma, Nackle, with a kick to the neck and then landing with a boom.
Trivia
Although in the movie, Alien Nackle II was one of the monsters not part of Beryudora.
This Alien Nackle is most likely the one that Rei murdered in Never Ending Odyssey.
Ultraman Ginga
In episode 7, Nackle, along with many other kaiju and seijin, were cheering on Ultraman Ginga as he fights Dark Galberos.
Another Alien Nackle appears in this series as Gray, where he becomes one of the underlings of Dark Lugiel, granted the mission to spread chaos and feed evil hearts to his master by corrupting any individual with the Dark Dummy Spark. He was defeated by Ultraman Ginga while DarkLived as Super Grand King.
New Ultraman Retsuden
Ultraman Ginga S
Ultraman X
Alien Nackle returns in Ultraman X where instead of one, there were two individuals, each appeared in different episodes. The first Nacklian was an arms dealer Bandero (バンデロ Bandero) and the latter one is a peaceful immigrant living on Earth Nackley (ナクリ Nakuri).
Bandero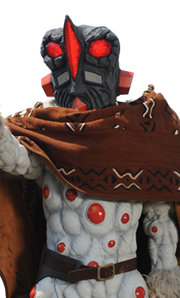 Bandero is an arms dealer who claimed to be the strongest in the universe and was hunted by Ultraman Zero. He arrived on Earth and tried to steal the Spark Dolls from Xio by using Black King to delay them. Approaching Xio Aramis, he defeated Wataru Kazama but forced to abandon the Spark Dolls for a while when Black King is in a pinch, overpowering Ultraman X until Ultimate Zero arrived and turn the tides of the battle. He flees into Planet Gilermo with Black King while bringing Aramis.
At Gilermo, he armed Black King with a new horn drill and contacted his client but Rui Takada appeared and reclaim the Spark Dolls back. Interested in Rui for being an inventor, Bandero offered her a place under his wing in exchange for her weapons but she denied, prompting the enlarged Bandero to chase her until Zero arrived in that planet. Black King Drill Custom aided his master but X appeared as well and both Ultras overpowered the villainous duo. The Nackle was weakened by Zero's Strong-Corona Attack, Ultra Hurricane, Garnate Buster, and Miracle Zero Slugger before being deliberated by the Zero Twin Shoot. When the Aegis Shines
Trivia
Voice actor: Tetsuo Kishi

Interestingly, Tetsuo previously voiced Black King in Ultraman Ginga, with said monster is Bandero's servant.
Tetsuo Kishi is a fan of Return of Ultraman and because of this, most of Bandero's lines were ad-libbed.

A new suit was made for Bandero instead of reusing Gray's suit. As shown in comparison, Bandero's skin tone is brighter than Gray. This was purposely made to re-invoke the elements of the first generation of Alien Nackle from Return of Ultraman.

Ultraman X's director Koichi Sakamoto said that Bandero's appearance and role was in fact a tribute to the first Alien Nackle and most of the situations reflect that of the episode 38 of Return of Ultraman, Ultraman Dies at Sunset. Also, Koichi added that when Rui used Xio Aramis to run into the alien was meant as "revenge" for the first Nackle having killed Aki Sakata.
After the end of episode 14 of Ultraman X, The Shining Sky, and the Land Beneath It, Koichi Sakamoto revealed that Bandero's customer, whom requested his stolen Spark Dolls was none other than Alien Makindo. Alien Makindo also appeared in that same episode where he sold Mecha Gomora to Gina Spectre until he was shot down by Alien Shaplay in refusal to pay for his service. [1]

Whenever Bandero wanted to become a giant, he would remove his poncho first but his gun and the holster grew along with him. It is possible that his poncho isn't capable of enlarging like his weapons or that he removes it for easy mobility.
It is also revealed that the race's currency is also named after their planet, "Nackle".
Bandero's name comes from the main character of the 1931 film "Little Caesar", Caesar Enrico Bandello.
In the "Ultraman Orb Retrospective Special", Bandero's suit is used in a new scene where a unnamed Nackle fights Ultraman Jack.

This is the only Ultra demonstration in the special that is not completely comprised of stock footage.
Nackley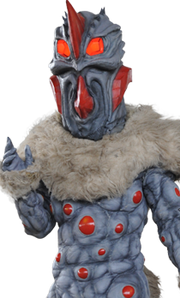 The head of the Nebula House (星雲荘 Seiunsho) residents, Nackley, Icary and Halky disguised and worked in a human society, with Nackley's human form being Nakuri (名栗, Nakuri), an office worker whom earns 500 Yen per each paper. Wanting a new housemate to ease their monthly rent of 15,000 Yen, they find Isamu Kazama and accepted him.
Learning that Isamu was a former rugby player, they counsel his problems and one day, after the appearance of Halky's Samekujira accidentally attracted the Dark Star Cluster's attention, they challenge the thieves in a rugby match. After three days of training, the Nebula House residents manage to win the match. They thank Isamu for his help and allow him to rejoin his rugby team. We are Nebula!
Trivia
Actor: Kunji Hirano
His voice actor and mannerisms are the same as Alien Nackle Gray from the Dark Spark War timeline. What his exact relation to Gray might be is unknown.
According to Ultraman X, the Nebula House residents are former invaders that given up their careers for a simple life on Earth. Whether this is true or not is still unconfirmed.
Ultraman Orb Chronicle Chapter 2: 'I am the Galaxy's Migrating Bird' Arc
A pair of Alien Nackle brothers appeared as Ramon Brothers (ラモン兄弟 Ramon Kyōdai), being the bodyguards of Alien Zartana, whose plan to construct a space highway in Planet Kirelmo, whose inhbitants they terrorized. Gai transformed into Ultraman Orb and defeated them both.
Trivia
Their association in Planet Guillermo harkens back to Bandero hiding in the same planet in Ultraman X. Instead of employing a Black King as a bodyguard, it was another alien (Juggler), who dresses himself in black clothing.
Ultraman Orb
Ultraman Geed The Movie: Connect The Wishes!
Alien Nackle was one of the aliens who attacked the gang when they arrived at the alien city, but he, like his comrades, was eventually defeated in a fistfight at a bar.
Ultraman R/B
Alien Nackle was among the aliens interviewed by Alien Mefilas and Alien Zarab on Saki Mitsurugi's plan to turn Earth into a bomb. A World Without Tomorrow
Data
Other media
Mega Monster Rush Ultra Frontier
Two Alien Nackles appears in this video game as part of a monster hunter team.
Alien Nackle Jara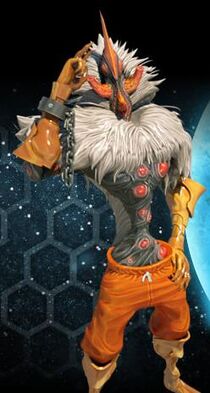 An Alien Nackle by the name Jara (ジェイラ Jeira) is a member of the Jailbreak Hunters, a group of illegitimate hunter team composed by escaped prisoners whom earned points by hacking into the game's system and remove it from the rival team. His nickname is 50,000 Years in Prison for Arrogance (傍若無人の懲役5万年 Bōjakubujin no chōeki 5 man-nen).
SUPER-EARTH GOMORA Hunting
He and his comrades had stole the Rush Hunters' points while they were fighting Super Earth Gomora. As the Rush Hunters about to battle the thiefs, Alien Mefilas Sickle appeared and trapped the criminal in cards, while giving the Rush Hunters back their points.
Trivia
Voice actor: Yōhei Tadano
Jara's name is a pun of the word jail.
Gallery
Community content is available under
CC-BY-SA
unless otherwise noted.