Alien Keel (キール星人 Kīru Seijin)[1] are a race of aliens that are first mentioned in episode 21 of the TV series, Ultra Q, but made their physical appearance in Ultra Galaxy as Vittorio in game and manga, and Grande in live-action.
Subtitle: Alien Strategist (戦略星人 Senryaku Seijin)[1]
Conception
Etymology
Alien Keel's name is based on the English word kill.
History
Ultra Q
Although despite not appearing physically in the series, the Alien Keel (according to Alien Ruperts) are described as being a belligerent and barbaric race of aliens that thrive on war and hatred. They had already ravaged the home planet of the Alien Ruperts and had planned to assault Earth with their weapon, the stingray monster Bostang. Fortunately, their plan failed when Bostang was killed by Japan's SDF, and the Alien Keel were never mentioned again. Space Directive M774
Trivia
Alien Keel is one of the few Ultra Kaiju that do not possess a subtitle. This remained until Ultraman Taiga's airing, where the official website finally gave them one.
Ultra Galaxy Mega Monster Battle: Never Ending Odyssey
Main article: Grande
An Alien Keel by the name of Grande (グランデ Gurande) appears in the series, Ultra Galaxy Mega Monster Battle: Never Ending Odyssey.

Ultraman Taiga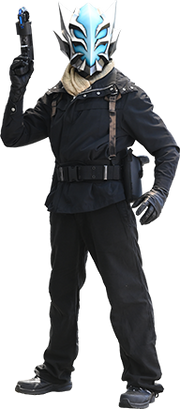 Alien Keel re-appears in Ultraman Taiga as a member of the Villain Guild. He and his partner Hupnath were sent to retrieve a Majappa, which was sealed inside a device by Maiko Namekata. He brawled with Homare Soya, but was eventually defeated. The Present for Each
Ultraman Taiga The Movie: New Generation Climax
After hearing about Grimdo's eventual arrival on Earth the Villain Guild attempt one last effort before trying to escape. They had started to target Hiroyuki Kudo for his Ultraman Bracelets, intending to sell them off for a high price. Alien Shaplay, Alien Keel, Alien Serpent, Lecuum and Alien Groza attempted to mug Hiroyuki, but the aliens were defeated with combined efforts from Hiroyuki, Katsumi Minato, Isami Minato and Riku Asakura. Ultraman Taiga The Movie: New Generation Climax

Data
Stats
Height: 2 m
Weight: 84 kg
Origin: Planet Keel
Powers and Weapons
Armor: Most Alien Keel hypothetically wear a set of armor. Grande's and Vittorio's armors theorized that they did not share the same helmet altogether.
Bostang-Type Spacecraft (ボスタング型宇宙船

Bosutangu-gata Uchūsen

): Themed after their signature monster Bostang, they rode a spacecraft as means of transportation.
Reionics
Battlenizer: Grande and Vitoorio had Neo Battlenizers.
Reionics Bond Severance: As with all Reionics, Grande can severe his bond with his Battlenizer monsters at the last minute before their deaths to save his own life.
Other Media
Mega Monster Battle: Ultra Adventure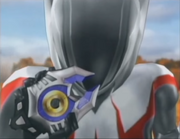 Main article: Vittorio
The manga expansion of the Mega Monster Battle series and its game adaptation ULTRA MONSTERS introduced Vittorio, the very first Alien Keel to appear.
References