Alien Galo (ガロ星人 Garo Seijin) were aliens that appeared in the Ultraseven: The Final Chapters episode, "The Sky-Flying Iron Colossus."
Subtitle: Space Insect (宇宙昆虫 Uchū Konchū)
History
Heisei Ultraseven
Alien Galo were one of the alien races to signed a diplomatic agreement with TDF and the rest of the Earth. However, they feared that the Earth forces would someday plan an invasion of Planet Galo, in response Alien Galo planned to betray their promises and invade Earth first. For this to work, they kidnapped Alien Kyuloo, a shipwrecked alien that lived on Earth since 20 years prior and forced him to rebuild Daitekkai, his old spaceship. With Daitekkai completed, they piloted it as the spaceship emerged and the UG was sent to destroy it. Masaki Kazamori (under possession of Dan Moroboshi) transformed into Ultraseven and went into the battle but was overpowered. As it seemed to be the end of Ultraseven, Alien Kyuloo, who was converted into energy by Alien Galo in his kidnapping had temporary takenover the machine allowing Ultraseven to finish the robot and Alien Galo once and for all.
Trivia
Alien Galo were the second alien race to confirmed to have formed a diplomatic contract with Earth, as the first was Alien Quraso.

At the same time, they were also the first alien race to break their contract with the Earthlings.

The mysterious man that was possessed by an Alien Galo was portrayed by Akitoshi Otaki, the actor for Seiichi Munakata.

Also, the two fishermen that possessed by two other Alien Galos were portrayed by Koichi Toshima and Koji Mimura, whom also worked as suit actors for most of the Ultraman Series' Kaiju and Seijin.
Ultraman Taiga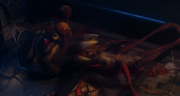 An Alien Galo, or at least a very similar creature, was seen as one of the test subjects of Mabuze's experiments to create the ultimate creature. I Can't Hear Your Voice
Trivia
If the creature is Alien Galo, then this marks the first appearance of the race in two decades.
It's unknown if the original prop from Ultraseven: The Final Chapters was reused for the alien's appearance, or if a new prop was made.
Data
Stats
Height: Unknown
Length: 40 cm
Weight: 1.1 kg
Origin: Planet Galo
Powers and Weapons
Possession: Alien Galo can possess humans by latching themselves on the back of the victim's head.
Technopathy: Alien Galo can manipulate technologies to their liking.
Daitekkai: Formerly Alien Kyuloo's spacecraft, now it was rebuilt and used by Alien Galo for their invasion on Earth.