Alien Dorzu (ドルズ星人 Doruzu Seijin) is an alien that appeared in Ultraman Taro.
Subtitle: Evil Alien (凶悪宇宙人 Kyōaku Seijin)
History
Ultraman Taro
Alien Dorzu's plan on attacking Earth seemingly hinged on the coincidence of ZAT Member Kitajima stumbling into the scene of a girl seemingly being kidnapped by a mysterious person, leading him to reminisce about his childhood friend, Mari, whom he had turned into his subordinate
Alien Dorzu is later contacted again by Mari who reports of the success of the plan. He then orders Mari that within 50 hours, she is to transform into the monster Memole and attack the Earth.
It is later revealed that Mari is only a weapon created by Alien Dorzu. Memole however, was successfully summoned, though would be defeated by Ultraman Taro shortly after thus, ending Alien Dorzu's plans.
Data
Stats
Height: 52 m
Weight: 30,000 t
Origin: Planet Dorzu
Other Media
ULTRAMAN manga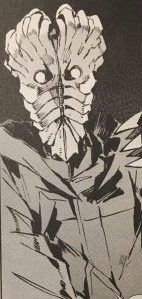 Alien Dorzu, spelt 'Druz', was part of Dark Star, an alien supremacist group of terrorists. He was responsible for handing out drugs that turned New Yorkers into monsters and killed Kotaro's friend, Dave.
Gallery
Ultraman Taro
ULTRAMAN