Alien Ckalutch (クカラッチ星人 Kukaratchi Seijin)[1] is an alien that first appeared in Ultraman Orb The Movie: Let Me Borrow the Power of Bonds!.
Subtitle: Insect Alien (昆虫宇宙人 Konchū Uchūjin)
History
Ultraman Orb The Movie: Let Me Borrow the Power of Bonds!
An Alien Ckalutch was one of Murnau's agents sent to steal the X Devizer from the SSP, alongside a Cicada Woman, a Hupnath and a Galmess, so that Ultraman X could be turned into a jeweled statue like Ginga and Victory. Their plans were stopped when Gai Kurenai arrived and fought the group in a fist fight.
Later the group of four aliens were present inside Murnau's mansion where they engaged in combat with: SSP, Juggler, Daichi, and Gai. They group were once again defeated by the combined efforts of Gai and Daichi.
Trivia
The race's name is a corruption of the English word "cockroach".

Ckalutch also sounds similar to the Spanish translation of cockroach, cucaracha.

The head is believed to be a loosely modified Arakunia head.
Ultraman Geed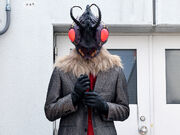 A lone Ckalutch was to be deported from the Earth but hid himself from the authorities out of fear getting out from the planet. Moa Aizaki and her temporary partner Kuruto were sent to bring him in. The Ckalutch assaulted Moa out of self-defense when she was talking on the phone, but was quickly knocked out by Kuruto.
Trivia
Voice actor: Yuki Hirashita
Ultraman Taiga
An Alien Ckalutch appeared alongside Cicada Human, who tried to attack an EGIS vehicle and the two workers escorting Alien Rivers Kawazu and a baby Zandrias. Despite the two of them catching up to the car with ease, Hiroyuki slammed on the brakes, resulting in the two aliens accidentally shooting each other with their blasters, revealing their true forms in the process. Buddy Go!
In episode 17, another Ckalutch named Hoshijin appeared. He was Alien Semon Meed's contact, who wanted to buy a monster-controlling device that Meed stole from the Villain Guild. Meed and the Ckalutch eventually met up, but the Pedans ambushed them and tried to take back the device. This started a brawl among them and the EGIS members, who were escorting Meed unaware of his true intentions. Afterwards, he is arrested by the police. Guardian Angel
Trivia
Voice actor: Takatora Shimada (episode 17)
Ultraman Taiga The Movie: New Generation Climax
After hearing from Foreign Affairs X that Hiroyuki was being targeted by remnants of the Villain Guild, Kana Sasaki set out to find them in order to protect her employee. She came across them at their hideout and asked them nicely for information, but things took a violent turn as a fight broke out. Fortunately, Kana was joined by Gai Kurenai, who helped her fight off Alien Bado and Alien Ckalutch. They interrogated them after their defeat, and found out that they wanted to steal the Ultramen's Bracelets to sell them off and escape the Earth when Grimdo arrived. Ultraman Taiga The Movie: New Generation Climax
Data

Stats
Height: 1.8 m, 1.7 m (Taiga)
Weight: 80 kg, 75 kg (Taiga)
Origin: Planet Ckalutch
Powers and Weapons
Human Disguise: Like the rest of his fellow agents, Alien Ckalutch can disguise himself as a human to blend in with society.
Ultraman Taiga
Acceleration: Alien Ckalutch can easily accelerate to the speed of a car.
Energy Gun: The Ckalutch under Villain Guild is armed with an energy gun that can shoot charged spherical attack.
Spaceship: The independent Alien Ckalutch in episode 17 rode a spaceship as his means of transportation.
Gallery
Ultraman Orb The Movie: Let Me Borrow the Power of Bonds!
Miscellaneous
References