"To steal all the treasures in the galaxy! That is our code!"

―Alien Barossa II, Ultraman Z episode 17
Alien Barossa (バロッサ星人 Barossa Seijin)[1] are pirate aliens that debuted in Ultraman Z. Known for their lifecycle, which involves emerging in giant broods numbering in the thousands, the Barossa are also known for their use of weapons stolen from other aliens and monsters. Three Barossa, a trio of brothers from the same brood, attempted to attack the Earth; the first two were defeated by Z, while the third met his end at the end of a combination attack carried out by King Joe SC, Sevenger and the Beliarok.
Subtitle: Space Pirate (海賊宇宙人 Kaizoku Uchūjin lit. Pirate Alien)[1]
Conception
Etymology
Their name is likely derived from the Barbarossa brothers, a pair of notorious Turkish pirates who operated off the coast of North Africa during the fifteenth century.
Design
Alien Barossa was designed by artist Kengo Kusunoki under the image of an alien that will represent the Reiwa Era of Japan.[2] True to form, Barossa is the first new alien race in the Reiwa Era of Ultraman Series to be given a suit.
History
Ultraman Z
Alien Barossa are a race of pirate aliens that are notorious for looting the weapons of their opponents, this includes a King Joe unit from Alien Pedan. Alien Barossa Special Airborne Armor Secret File
Generation I
Aiming for the scattered Ultra Medals on Earth, a Barossa piloted King Joe to ambush a GAF facility to steal three medals they obtained and threaten the organization to hand over the other three in their possession. STORAGE took the mission to protect them by acting as diversions while Yoko delivered the real set to JAERC. Meanwhile Barossa was leaving thinking it had the real ones. Unfortunately for STORAGE alike, neither managed to accomplish their task as Shinya Kaburagi was there to steal them from Yoko and lured Barossa/King Joe to his location by opening the special container. Just as King Joe was about to capture the Medals, Z obtain them first and ultimately used them to disable the robot. The Unidentified Object Convoy Order
Barossa survives long enough to manipulate a STORAGE officer to break into their headquarters to reclaim King Joe. Using Yoko as a hostage, he forces Yuka to reactivate the robot before Juggler prevented him from killing Yuka. Barossa made his way to the hangar by incapacitating Kojiro Inaba's men and electrocuted as soon as he was fooled by a lunchbox. The alien escaped the building by accidentally leaving his looted Ultra Medals behind and grows large to fight Ultraman Z using all of his looted weapons. Yoko gave Barossa's stolen Medals to Z, who uses it to initiate M78 Style Shining Tornado Slash. In his final breath, Barossa proclaims that his other 9,999 younger brothers shall avenge him. Here Comes the Space Pirate!
Generation II
Sometime later, true to the first Barossa's proclamation, one of his younger brothers, Alien Barossa II (バロッサ星人(二代目) Barossa Seijin Nidaime)[1] appeared from the sky and ambushed Z in Delta Rise Claw, who had just slain Metsuboros. The Lion's Cry In addition to taking the discarded Gillvalis hand from Metsuboros' remains, Barossa II intended to collect the Beliarok as part of his space treasure collection and get his revenge on Ultraman Z for killing his older brother.
Beliarok seemingly complied and allowed Barossa II to use him, but decided to refuse midway through the fight after seeing the sloppiness behind Barossa's attacks. Returning to human size, Barossa II found himself in a three-way confrontation between Haruki and Juggler for Beliarok's possession. Again, he briefly obtained the Beliarok, but the sword decided to choose Juggler instead as his wielder. Wanting to continue with avenging his older brother, Barossa II swallowed Juran seeds to enlarge and faces against Z and Windom. He was able to use Yoko/Windom as his hostage for a brief moment, but the Beliarok returned to Z to turn the tables. Seeing how the battle went to his disadvantage, Barossa II attempted to flee, but was killed by Deathcium Fang. Beliarok
Generation III
Some time after Barossa II's invasion attempt failed, a third Barossa arrived on Earth to launch an attack in the aftermath of the D4 incident. This Alien Barossa was the elder brother of Barossa II, and the younger brother of Barossa I, making him the 'middle child' of the three. Wanting to avenge his brothers, Barossa III teamed up with Jugglus Juggler, who sided with Barossa for unknown reasons, fighting alongside the Majin and his Tri-King (and later, Five King) transformation against Z, Sevenger and King Joe STORAGE Custom in a long battle. Eventually, the Space Pirate met his end by Sevenger's improvised Sevenger Wave Riding Special Slash combination attack with King Joe's Leg Carrier and the Beliarok. Individual Tomorrows
Trivia
Voice actor: Koichi Toshima (I), Tomokazu Seki (II), Tatsuya Hashimoto (III)
The first Barossa lacks a vocal cord and instead speak by chanting and grunting his name, 'Barossa' over and over again. This is not the case with Barossa II, who seemingly managed to learn Japanese on his own. Beliarok Barossa III also lacks this limitation, and was fully capable of speech from the moment he arrived on Earth. Individual Tomorrows

For a split second, when the gigantified Barossa I tried to remove the Magma Saber stuck to a building, he was heard saying, "It won't move".

The Barossa aliens lay 10,000 eggs at once, and the first individual that Z had killed happened to be the eldest brother in the brood he originated from.
Despite his initial claim to avoid unnecessary violence when trying to claim the other three Ultra Medals from STORAGE, the first Barossa was willing to kill Yuka Ohta once she activated King Joe.
One of Barossa aliens fought Ultraman Zero and gave him a hard time due to its trickery. Alien Barossa
The first two of the Barossa brothers had at least one allusion to their voice actors:

Among the first Barossa's weapons are Dada's Micronizer and Magma's Magma Saber. Koichi Toshima had portrayed and voiced these two aliens at some point, with Magma being his prominent recurring role in most of the Tsuburaya-related events.
The second Barossa was the subject of Windom Yoko Attack, a burning hand attack from Windom which resembles the Shining/God Finger finishing moves used by Domon Kasshu of Mobile Fighter G Gundam. In addition, Tomokazu Seki also voiced Glenfire, who is also a space pirate like Barossa II.

In addition, when Barossa II was at the receiving end of Windom's attack, he begged not to injure his head. This is an in-joke to the first rule of the Gundam Fight in G Gundam, that injuring a Mobile Fighter's head would get the victim's unit to be disqualified from the competition.
Ultraman Trigger: New Generation Tiga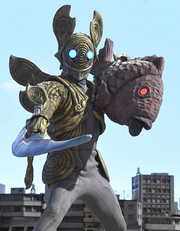 Alien Barossa IV (バロッサ星人 (四代目) Barossa Seijin Yon-daime) appears in Ultraman Trigger: New Generation Tiga.[3]
This particular individual, like the first appearing Barossa, is incapable of speaking in human languages, hence he had a Baby Zandrias as his interpreter. After stealing King Joe STORAGE Custom, he tried to stall his pursuers, Ultraman Z and Yoko/Space Sevenger by throwing random junks before he uses Bullton to cover his escape. Unfortunately Z managed to slip in at the cost of losing his medals and damaging his Z Riser. Bullton lead its passengers (including King Joe SC) to the world of Ultraman Trigger.
While searching for his last Juran seed in order to grow big and left Earth, Ignis barged in to steal the Ultra Medals, leading to a skirmish chase. He managed to recover the Juran seed and grows large to attack Ignis, but his actions attracted the attention of GUTS-Select and Ultraman Trigger. With the addition to Ultraman Z during their fight, Barossa try to make his escape, but was quickly killed mid-air via Beliarok and Power Claw, exploding into pieces. Inter Universe
Trivia
Voice Actor: Kiyotaka Taguchi
The addition of a Baby Zandrias on his left shoulder, coupled with Barossa IV's established reputation as a space pirate gives him the image of a stereotypical pirate who has a parrot resting on his shoulder.
Data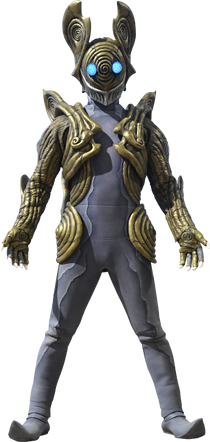 Stats
Height: 2 ~ 53 m
Weight: 110 kg ~ 25,000 t
Origin: Planet Barossa (バロッサ星

Barossa Sei

)
Powers and Weapons
References