Alien Angel (アンヘル星人 Anheru Seijin) are an alien race that come from Planet Angel. One of them, Tori (トーリ Tōri), came to Earth after the kaiju Chronorm destroyed Planet Angel.
Subtitle: Grace Alien (優美宇宙人 Yūbi Uchūjin)
History
Ultraman Mebius
After Chronorm destroyed his homeworld, Tori, traveled with the last members of his species to Earth, but he was the only one that made it alive. Tori assumed the form of a normal human and became a police officer. Later he worked with GUYS as they tried to track down Chronom as he began to take people into the past. Tori enlisted Marina's help for the team in time. After the monster Chronom brought Marina, Tori, and Mirai to the year 1999, it appeared and began attacking Marina, but as it unleashed a fireball at her, Tori revealed his true self and took the attack for her. Shortly after Chronom was killed by Ultraman Mebius, Tori died, and disappeared into thin air. Ocean Waves of Time
Trivia
Alien Angel's suit is similar to Unizin's suit from Ultraman Max.
Alien Angel's suit was modified from Gruanfan from Ultraman Cosmos.
His name Tori means "bird" in Japanese, it's appearance also resembles that of a bird rather than an angel to which the race is named.
Data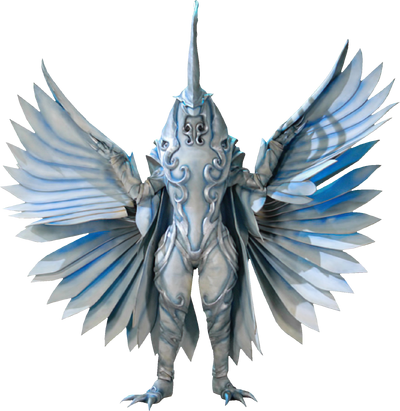 Stats
Height: 2 m
Weight: 100 kg
Origin: Planet Angel
Powers and Weapons
Human Disguise: Alien Angel Tori can disguise himself as a normal human.
Flight: Alien Angel Tori was able to fly seemingly without the use of his wings.
Durability: Despite being struck directly by a blast from Chronorm, Tori did not die immediately.
Space Travel: Tori traveled to Earth in what appeared to be a sphere of light, it is unknown if this was technological or an ability but there were others with him who did not make the journey.
Gallery
Ultraman Mebius
Miscellaneous