Ah! The Giraffes and Elephants Turned to Ice!! (あっ! キリンも族も氷になった Ā! Kirin mo Zou mo Kōri Ni natta) is the fiftieth and final episode of Ultraman 80, marking the end of the Showa period of the Ultraman Series.
Synopsis
With Plazma and Minazma no more, it seems that the Minus Energy's last stand was successfully halted by 80 and Yullian. All of a sudden, the space monster Margodon arrives and begins using his powers to freeze Tokyo solid! UGM reveal a surprising secret; they know the truth behind Takeshi Yamato and Ryoko Hoshi's identities and those of the Ultras. With the Minus Energy threat already having been triumphed over by the two heroes, 80 and Yullian choose to leave this final challenge to UGM, who have a new weapon at the ready that should make light work of Margodon.
Plot
TBA
Cast
TBA
Appearances
Ultras
Kaiju
Home Media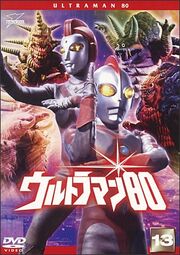 Ultraman 80 Volume 13 features episodes 47-49.
Trivia
This is the only episode 80 didn't fight.
The episode was premiered in the United States on TOKU on April 28, 2017.
This episode is one of few in the Ultraman Series to reuse the background music Victorious Battle (勝利の闘い ) from The☆Ultraman.