Advent of The Emperor -Final Trilogy I- (皇帝の降臨 ―最終三部作Ⅰ― Kōtei no Kōrin -Saishū Sanbusaku Wan-) is the forty-eighth episode of Ultraman Mebius.
Synopsis
To be added.
Plot
TBA
Cast
To be added.
Appearances
Ultras
Kaiju
Home Media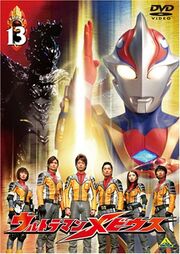 Ultraman Mebius Volume 13 features episode 48-50.
Trivia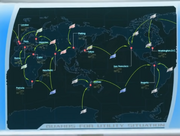 One error in the episode is when the GUYS display showed the attacking Inpelaizers. While only thirteen of them landed on Earth and Mebius destroyed three with Crew GUYS, the display still showed thirteen on the move.
This episode was later featured in episode 152 of New Ultraman Retsuden, "Mebius' Final Battle! Advent of the Emperor". It also features an original scene which involves Ultraman Mebius having a sparring match with Ultraman Taro.
Community content is available under
CC-BY-SA
unless otherwise noted.